Our Team
Learn more about our great Boulder City Assisted Living team at Lakeview Terrace of Boulder City!

Mary Rush - Administrator
Mary started her healthcare career as a pharmacy technician, working in retail and independent pharmacies in Illinois and Indiana. She studied nursing while working in the pharmacy; then worked in a local physician's office. Mary made the move to Nevada to assist with the care of her own mother in 2008. While visiting her mother in the Assisted Living Community, Mary realized the great working environment; and that type of situation was where she needed to be as a nurse. Since 2008, Mary has worked as the nurse in Assisted Living Communities; and this passion has led her to get her Administrators License in 2013. Mary has many family members in Las Vegas area, and especially loves having grandkids to visit and go swimming. She loves her 2 Pomeranian dogs that enjoy coming in occasionally to cheer up the residents at the communities. Her hobbies include maintaining her beautiful flowers at her house and entertaining friends and relatives.

RON SAVET –  Business Office Manager 
Ron graduated with Bachelor of Science Degree and Major in Psychology. She started her career in Administration since she graduated from college. Her work experience as an Executive Assistant brought her to a bigger area of administrative position. Lakeview Terrace opened the door for her to start working again in administration. This is her first time working in assisted living community and she gave her best to support not only to the LVT Team but she made also a great rapport to the residents. Ron has this commitment to herself to be reliable, disciplined and do her job well. She always puts in her mind that work is not about earning a paycheck, it's about doing something good that you believe in. Aside from being at work, Ron is a mom of two kids and a wife to her supportive husband. She makes sure that she will find a quality time to her family. They love eating out doors, watching movies and being with friends are part of their past time.
Sherry Hoffeld – Marketing Director
Sherry was born in Glenwood Springs, Colorado. When her father got out of the Military they moved to Kentucky, she was 2. Sherry spent the next 50 years in Kentucky, where she married and raised her family. She has two children and two granddaughters that are 10 and 2. After her kids started school, she went to work. She has worked for over 20 years in private medical practices as office manager. When her primary Doctor decided to retire, she decided to move to Las Vegas to be closer to her brother. After relocating, Sherry found a position in senior living and realized how much she loved working with seniors and where her heart found peace. She feels honored to be asked to work in a community that is truly a home. It is like being part of a large family. Helping seniors to have a happy, independent, and safe life is her passion. Sherry is looking forward to many years of assisting family's in need.  


Danielle Doeing, Food Service Director
Danielle began her journey into healthcare over 15 years ago, working in western New York with autistic adults and children. When she moved to Boulder City six years ago to join her family, she began her shift into food service. Starting as a food server, she worked her way up to assistant director then became certified to become a director. Long term care and assisted living communities are what she enjoys most, being able to really get to know the residents and bond with them. Integrity and work ethic are most important to her and she prides herself on her commitment to each and every job she takes on. Danielle has two nearly grown children and spends her time gardening and enjoying her family's company.
Shawn Turner, Maintenance Director
Shawn began at Lakeview Terrace as the bus driver in 2016 and was promoted to the Maintenance Director position. He is responsible for all maintenance issues of the community. Shawn's HVAC Certification and computer knowledge certainly come in handy. He loves to help out with whatever the residents need and has a big heart for seniors. 
Shawn is the single dad of one daughter. In his free time, he enjoys water sports, camping, fishing and spending time with family.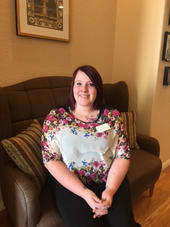 Lyndzie Myers – Activities Director
Lyndzie was born in Ohio and moved to Nevada when she was 12. That is when she began her journey into the health care setting, by volunteering in activities. Lyndzie loved being able to sit with each of the residents and talk, hearing their life story and bringing fun and exciting activities into their life. She was a caregiver to her great grandmother at the time and loved working with elderly. So when her great grandmother passed away, she decided to become an activities director so that she can make a difference in someone's life, as well as learn a few things from them. Lyndzie is currently finishing up her associates degree in general studies and began working at Lakeview Terrace. 
Toya Henry – LPN Resident Care Coordinator
Toya is happily married for the last 23 1/2 years to her wonderful husband. They have three boys and a girl. They have five grandchildren. Toya is originally from Texas but have lived in between Las Vegas and Idaho since 2003. She has been an LPN for 30 years with the last 23 years being in senior care between skilled nursing and assisted living. She loves caring for the senior population. She has learned so much and feel like she has made a difference in many lives as they have made to hers.