Assisted Living Facility in Boulder City, NV
Lakeview Terrace of Boulder City is a licensed by the state of Nevada as an Assisted Living Community.
All services at Lakeview Terrace of Boulder City are planned with the understanding that residents' individual needs can change over time. When their circumstances change, our highly trained staff is there to provide assistance while ensuring the dignity and respect that the resident is entitled to.
Resident service plans are created and reviewed on a regular basis with the involvement of each senior resident, family member and key staff members. Lakeview Terrace of Boulder City wants to ensure the appropriateness of the direction, scope and degree of services being provided.
Assisted Living services at Lakeview Terrace of Boulder City are supervised by our wellness coordinator and a Licensed Nurse. Services may include: medication assistance, grooming and bathing assistance, personal laundry and other assistance with activities of daily living.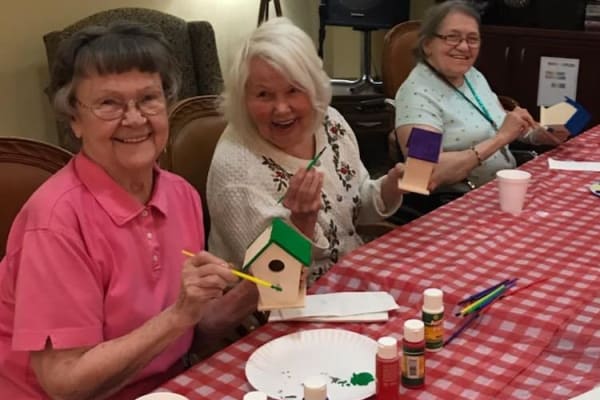 Charges for individual personal care service plans are determined through an assessment using a point based scoring method. The assessment will reflect a point total and total charge for the services provided.
You may add, cancel, or modify services as your needs change; best of all, you pay only for what you need. This approach accurately ensures that the charge for care services fees directly reflect your personal and individual needs.
Your basic monthly charge includes:
All utilities, including FREE telephone, wireless internet, and cable
Three beautiful and delicious meals and snacks prepared by our extraordinary Gourmet Chef
24-hour personal care staff and certified medication technicians with Licensed Nurse supervision
24-hour emergency call monitoring
Live Well! Wellness programs, including balance fitness, cognitive fitness, nutrition, and regular wellness evaluations
Serenity Salon
Weekly housekeeping and linen services
Private mailbox
Scheduled transportation, including excursions and road trip adventures
Exciting Life Enrichment program includes lifelong learning, amazing entertainers, spiritual enrichment, gathering of life stories, opportunity to leave a legacy, and more!
Pets welcome
Additional Services Available:
Our Health Services Director and Administrator will work with you to develop a service plan if services are needed in addition to the basic monthly charges.
Additional services may include:
Medication Management; monitoring, supervision, or assistance
Assistance with bathing and dressing
Additional housekeeping
Assistance with activities of daily living
Periodic nighttime services
Select diets
Safety and security checks
Meal time reminders
Coordination with health care providers